MEDICAL BATTERY MANUFACTURING
BEST PRACTICES FOR AFTERMARKET BATTERIES
Batteries are an important part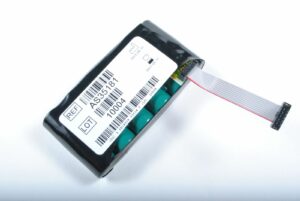 of daily life in the hospital.They are crucial components of our medical equipment, not only because they are used every day, but because they play a critical role in keeping the patient alive or safely monitored when the power fails or some other unforeseen event affects the hospital.
But because batteries sit silently in the background, they are often overlooked and ignored. They can become depleted or worn-out, with no warning that they won't perform when called upon. That makes it especially important for healthcare technology management (HTM) professionals to boost their battery know-how. Choosing reliable batteries is essential for keeping medical equipment running smoothly and helping patients stay safe.
SOURCING CHOICES
When new medical equipment arrives at a facility, it comes with an OEM battery that has been specifically designed and tested for that system's use. The equipment manufacturer is ensuring that the battery has met all the international regulations required for the medical classification of its equipment. The battery has been produced under conditions that comply with the Food and Drug Administration's Good Manufacturing Practices. HTM personnel can therefore be highly confident in its expected performance.
But when the original battery wears out, biomeds and materials managers must choose to replace it with either an OEM model or an aftermarket equivalent from a third-party manufacturer. Since in most cases the Centers for Medicare & Medicaid Services and The Joint Commission have no specific requirements that govern replacement medical batteries, facilities can choose the option that best meets their facilities' cost and risk needs. Some facilities select OEM replacement batteries for all medical equipment; others, only for critical life support equipment.
Aftermarket replacement batteries for medical equipment can be a cost-effective alternative to OEM batteries. Those that are designed to meet the OEM's specifications and produced in facilities following strong, certified manufacturing processes can be dependable, economical options. But knowing which questions to ask during supplier qualification can make all the difference when selecting the best option for your healthcare facility.
Selecting a Quality Supplier
When qualifying an aftermarket battery supplier, remember that "quality in yields quality out." Battery cells are made all over the world. The quality of these cells varies from excellent to poor. Poorly manufactured cells cannot produce high-quality battery packs. Batteries made without the highest attention to quality will exhibit issues in the following areas.
POOR-QUALITY CELLS
The battery cell is the foundation for the specially designed battery pack tailored to the specific requirements of a medical device. Many are produced in China or Japan. The difference between the average Chinese or Japanese battery cell can be significant. While Japanese batteries are generally of high quality, according to Barrie Lawson in his 2005 report "Buying Batteries In China," purchasing Chinese batteries from a product catalogue or specification sheet can be hit or miss. While China has some of the best battery manufacturing plants in the world, it also has some of the worst.
The best Chinese suppliers are producing products for well-known brands and are managed by qualified engineers with PhDs in materials science or electrochemistry, many of whom have trained in Europe or the United States. These suppliers have invested in fully automated production facilities, working in conditions approaching semiconductor clean room standards. In the worst facilities, every operation is carried out manually with few tools, no automation, no process controls, no quality systems, and no materials technology capabilities. Investigating your manufacturer's quality controls is a key component in qualifying a new aftermarket battery supplier.
ASSEMBLY PROCESS
When a battery pack is made, several processes should be followed to assure that the assembled battery pack is of optimal quality. Since a battery pack can be made up of multiple individual cells, several important steps must be followed to product a quality result. First, the cells should be matched (by brand, manufacturing lot, age, and voltage). Whenever two or more batteries are used in series or in parallel, they must be as close to identical as possible. If not, one will load the other, reducing the battery pack to the charge level of the lowest performing cell in the entire pack. Problems with spot-welded or soldered connections can be identified with proper in-process inspections during a validated assembly process.
Ask your supplier a few questions about the manufacturing procedure, including if the assembly process is certified to ISO 9001, ISO 13485, or QSR/GMP. Understanding whether your supplier's manufacturing process is certified is essential to gaining confidence in its capability to consistently provide quality product day in and day out.
THERMAL CIRCUITRY
In addition to battery packs failing, individual cells can fail too. They can lose capacity, swell, vent (through overcharging), or self-discharge. Since self-discharge raises the cell's temperature, battery suppliers must provide thermal protection to insulate the cell. Standard IEC 62133 requires nickel- and lithium-based batteries to have several safety devices. For example, each cell's thermal fuse must be the correct type with the proper rating. It must also be securely fastened using a specific thermal glue in the proper location inside the battery pack so the fuse can accurately sense the cell's temperature and react accordingly. OEM battery manufacturers have these features designed into the battery pack, but some third-party battery pack manufacturers may not design or assemble them correctly. You may want to confirm that your aftermarket provider faithfully replicates this design during manufacturing to ensure you receive a safe and effective battery.
Smart Questions for Your Team
Given these manufacturing issues affecting the quality of aftermarket batteries, a periodic review of your battery sourcing strategy can boost your confidence that your batteries will perform properly when a situation demands it. Review your facility's battery know-how by answering these seven questions:
How do we know we are purchasing high-quality medical batteries?

Is the supplier dedicated only to the manufacturing of medical batteries?
Does the supplier always use the original manufacturer's specifications for each and every battery pack that it produces?
Does the supplier have a long track record in manufacturing medical batteries?
Does the supplier perform 100% testing on each battery pack before it is shipped?

What does this testing consist of?
Is there documentation that accompanies our battery pack?

Does the supplier follow FDA Good Manufacturing Practices?

Have we checked that our supplier is in fact FDA-registered?
Is the supplier ISO 13485-certified (or ISO 9001-certified for nonmedical applications), and have we asked for a current certificate?

Have we performed an inspection of our battery supplier?

Is it possible to take a physical tour of the facility?

If a physical visit is not feasible, could we arrange a tour via video or live webcam?

Have we reviewed our battery use protocols to match our battery replacement schedule with the battery application?

Have we analyzed our historical usage to determine if we can decrease downtime, cost, or labor by modifying our battery maintenance strategy?

Is the battery compliant to the same safety standards followed by the OEM?

Have we researched to determine the recommended guidelines for battery maintenance for our manufacturers?
Can our battery supplier assist with this?

Is each hospital in our network following guidelines and best practices?

Is there variability in practices from facility to facility?

Has battery quality been identified as a key issue in our organization?

Is it discussed at committee meetings?
Have specific incidents at other healthcare facilities been discussed by our administration or committees?

What should we be doing to further reduce our risk around batteries?

Have I reviewed all applicable literature (especially from ECRI Institute) to ensure that we are doing everything possible to reduce battery-related issues with medical devices?
Have we considered risks such as injuries to patients or staff from battery failure, loss, runtime, or fire due to improper battery usage?
Have we reviewed the FDA Web site for battery recalls, manufacturer inspection reports, MedWatch reports, and device registrations?
By asking your team these simple questions, you can uncover areas for further review to ensure you are sourcing medical batteries that will perform when called upon. Your patients are depending on it.